IAWW is proud to introduce our book published in 2010:
Wheat Weaving Plaits and Projects Made Simple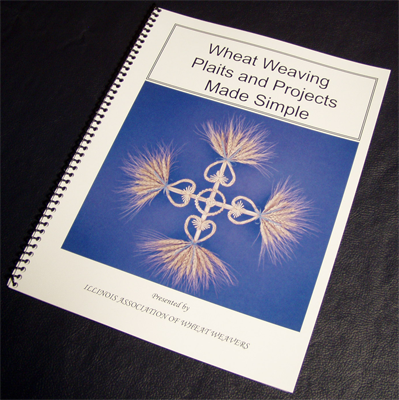 Thank you for letting us share our enthusiasm for wheat weaving with you. We hope you will find it interesting, helpful, and fun as you learn about and explore wheat weaving. We have selected four plaits plus tied straws which we feel are basic beginning plaits to develop skills for wheat weaving. Plait (pronounced with a short a sound, as in flat) describes the sequential folding and bending of straw into a weave. We have taken these plaits and created some easy projects for you to try.
All the instructions you need to complete these projects are explained in this book. After learning each plait, use your own imagination to twist them, combine them, change their size, to form different shapes in the creation of your own wheat projects.
We hope you will find wheat weaving to be as much fun as we have found it to be.
This 40 page book contains color pictures of each finished project as well as a list of supplies and tools needed. Included is a history of wheat weaving, detailed instructions for 4 basic plaits plus tied straw, complete directions and photos for 16 projects using these plaits. Also included are photos and general directions for at least 30 more projects and many tips and suggestions for making your projects interesting.
To order a copy of this book, click below to download the form to fill out and mail to us at the address on the form.
Click Here to Download the Project Book Order Form